Adam Pits: Synthetic Serenity Review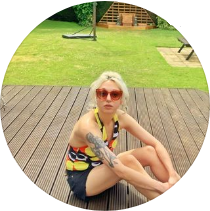 We had the honour of hosting the launch party for Synthetic Serenity, Adam Pits' second album on On Rotation at Plant & Deck and Imaginarium back in June. His first album, re-leased in 2021, was an astonishingly good debut, both for him and the label, and this, his next, is another mighty release.
In spite of the title, many of the sounds here have an organic feel, but there's a spacey edge to the natural swampy and foresty vibe of his first album. Over the eight tracks, he spans genres, from ethereal ambient sound through to proggy techno.
The album opens with the dark and beautiful dreamscape of Lost in the Ether; beatless and haunting. The journey continues with Sleepless, which gradually steps up the pace. For me, this and Brain Breach (B2) are stand out tracks, although taken as an entire jour-ney, rather than individual picks for a DJ - as an album should - the whole expanse of mu-sic works perfectly.
As we move on through to the second record, futuristic sounds dominate the sonic land-scape. C2, the title track, is both a peak time dance floor tune, and a hike through a tropi-cal setting in a distant world.
As a listener, this is an evocative piece of work in its entirety, and as a DJ, a collection of tunes that would each work beautifully within a set.