A-Z of Plant Care

At Plant & Deck we don't just want to help you find the perfect house plant to take home with you, we also want to ensure that it thrives in your home, living a long and healthy life. Knowing how often to water your plants, where to place them and what kind of conditions they prefer is vital in achieving this aim. Below is a simple and handy A-Z guide to some of the most popular house plants available to buy in store.
Alocasia Zebrina AKA Zebra Plant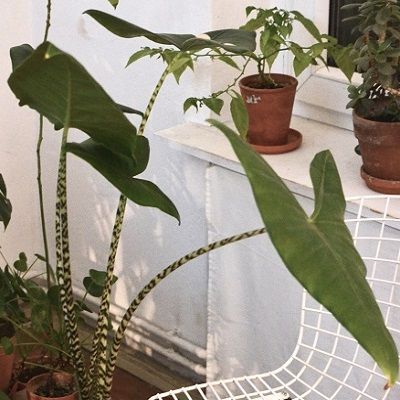 A tough, long lasting houseplant with dark green, glossy arrow-shaped foliage and a black and white striped stem. The Zebra plant is a delightful species and so you'll want to keep it in its best possible condition.
Use the soak and dry watering method, with weekly misting, making sure not to let the roots soak. The Zebrina enjoys brightness but ensure to avoid direct sunlight. Rotate occasionally and don't re-pot too soon as it thrives with roots packed closely together. If you see roots coming out of the bottom of the pot, take that as a sign of happiness. The Alocasia Zebrina is known to drop leaves as it makes way for fresh new ones, which is perfectly normal
Cacti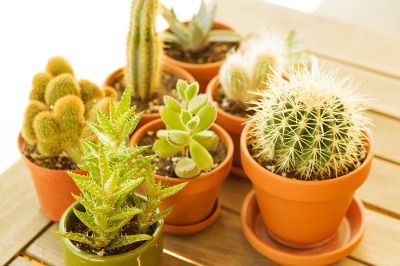 Cacti grow in all sorts of shapes and sizes with countless species and variations and can make an interesting focal point. Cacti thrive with good light sources so place them in bright and sunny areas like a south facing windowsill. The soil should be kept dry most of the time, watering every one or two weeks during the growing season and three to four weeks during the inactive season. Cacti don't need to be re-potted often, only every two or three years. If roots begin to show through the drainage holes then it's time to get your hands dirty.
Calathea Sanderiana AKA Pinstripe Calathea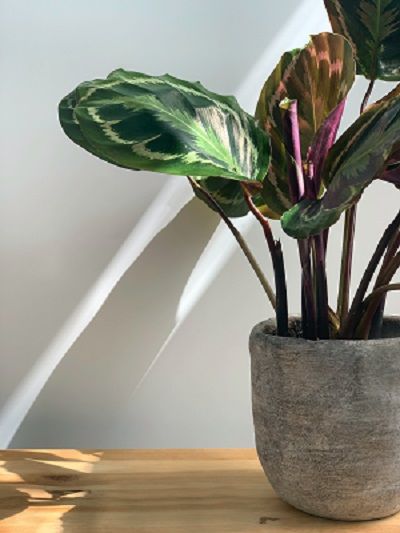 One of the larger of the Calathea varieties, the Sanderiana has large dark green and glossy leaves with white stripes, gorgeous pink overtones and purple tones under the leaves. A simply stunning plant which will make a bold statement alone or as part of your collection. This species grows quickly and can reach heights of around 1.5 metres.
Avoid direct sunlight as this will cause the leaves to fade and lose their beautiful markings. Water your Sanderiana as little and often as possible as they thrive in constantly damp soil but dislike very wet soil - do not let the roots sit in water. This species loves a high humidity level so mist frequently and keep warm. Try popping it in the bathroom from time to time while you shower for that tropical vibe.
Calathea Orbifolia AKA Prayer Plant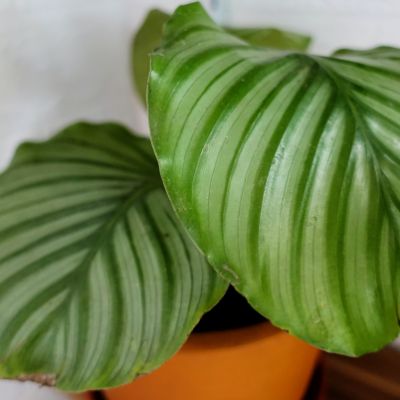 Native to Bolivia the Calathea Orbifolia is a species of prayer plant with oversized leaves striped with shimmering silvery bands. Its oval shaped leaves can grow to over a foot across and is a must have in any plant enthusiasts living room.
Orbifolias, like the Sanderiana, love humidity and consistent soil moisture. Make sure you use a well draining pot and don't let the roots sit in water. Frequent misting along with regular small waterings will keep your Orbifolia happy. There's no need to re-pot regularly, only once the pot is root bound. The Prayer plant prefers semi-shade and low light but not direct sun as its natural habitat is the ground level of Bolivian jungles.
Chameadorea Elegans AKA Parlour Palm or Dwarf Mountain Palm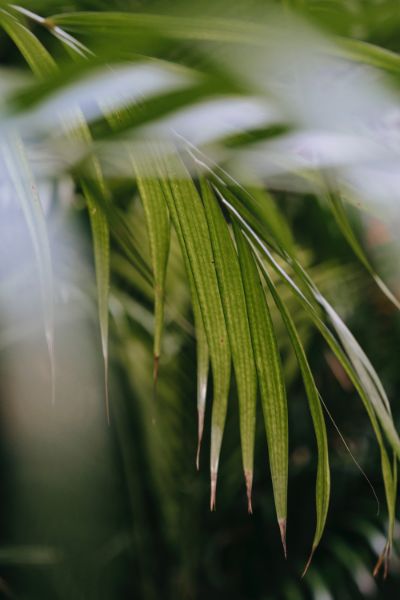 A much favoured house plant due to its hardy nature, elegant stature and excellent air purifying qualities the Chameadorea Elegans have slender arching stems topped with bright green feathered leaves. This species is very easy to care for, can grow up to 1.5 metres, and mature plants can develop small yellow flowers if provided with enough light.
Parlour Palms preferably like to be placed in a bright location although they can survive in shadier spots. Make sure not to overwater and that the pot drains properly to stop the roots from rotting. Average household temperatures are perfect for this species although a little humidity doesn't hurt. Try misting occasionally with lukewarm water.
Crassula Ovata AKA Money Plant, Jade Plant or Chinese/Japanese Rubber Plant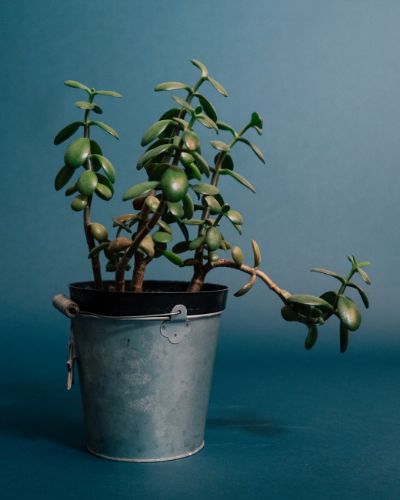 The Crassula Ovata is a member of the succulent family, retaining moisture within its leaves. The name Ovata refers to its thick egg-shaped fleshy leaves. Similar to a bonsai, the money plant grows like a miniature tree. Whether or not it will bring you wealth remains up for debate but we think it will certainly bring you happiness.
The Money Plant is very easy to take care of and requires very little water compared to many house plants. Water moderately during the growing season (April to September) but more sparingly otherwise. Once or twice a month should be fine, making sure you allow the soil to dry out before watering again. Place in a spot with plenty of light and treat them to the occasional misting.
Crassula Hulk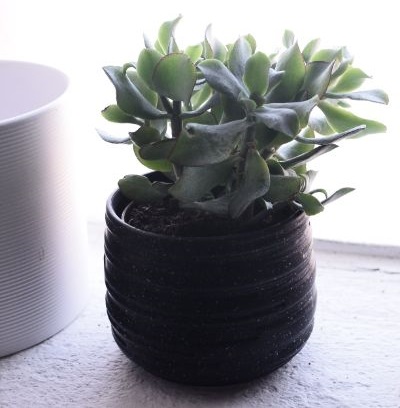 A variety of the Crassula Ovata, the Hulk has straight edged, pointy foliage rather than the egg shaped leaves of the Ovata. Care for the Hulk in a similar way to the Ovata however the Hulk will thrive in a bright and sunny spot such as a south facing windowsill. This is another example of a low maintenance and easy to grow houseplant.
Dracaena AKA Dragon Plant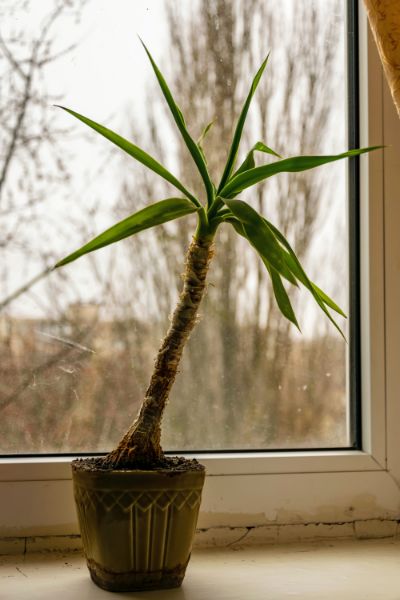 An absolute classic house plant, Dracaenas come in many varieties from the Marginata to the Warneckii. With their spiky leaves and slender trunks they make a perfect addition to our homes and workplaces due to their low maintenance and slow growth meaning they are unlikely to outgrow their setting.
Dracaenas are a drought resistant variety, can survive in a low light and don't need as much humidity as other varieties mentioned in this article. Generally speaking Dracaenas should be placed in bright but indirect sunlight and the soil should be allowed to dry out before watering again. Keep away from cold draughts and even a serial house plant killer would struggle to finish off one of these guys.
Dypsis Lutescens AKA Areca Palm or Bamboo Palm
Another popular house plant, the Dypsis Lutescens is an attractive palm with closely packed stems and long arching leaves. Similar to the Chameadorea Elegans this species is easy to care for and will make an excellent addition to your collection.
A hardy house plant which requires regular watering during the growing period, increasing time between watering during winter. Wait for the soil to dry out before watering, mist regularly and place in a brightly lit spot but away from direct sunlight and heat sources.
Ficus Lyrata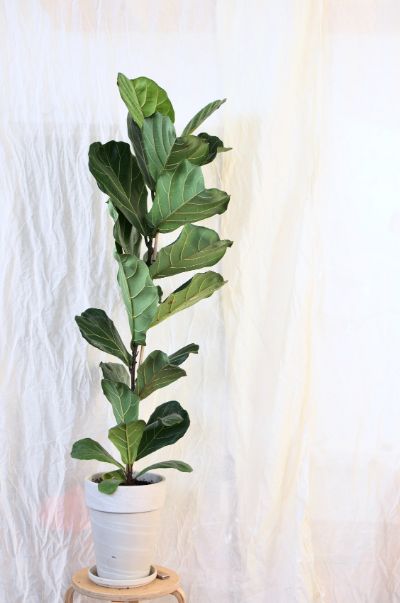 The Fiddle leaf fig (named after its very large, heavily veined fiddle shaped leaves) grows upright on a sleek trunk often 6-10 feet high. A great focal point for your collection.
Ficus Lyrata requires bright, filtered light but not direct south facing sun. Try placing it in an east facing window for best results as if placed in a dark place it will fail to grow quickly. Keep the soil moist but not wet or sat in water. Find a permanent position for this addition as they don't like to be rotated often. Don't be surprised if leaves facing away from the light drop off after repositioning, this is natural. Re-pot annually to encourage growth and mist regularly as the Fiddle Leaf Fig likes humidity and this will help its leaves keep their natural glossy sheen.
Monstera AKA Cheese Plant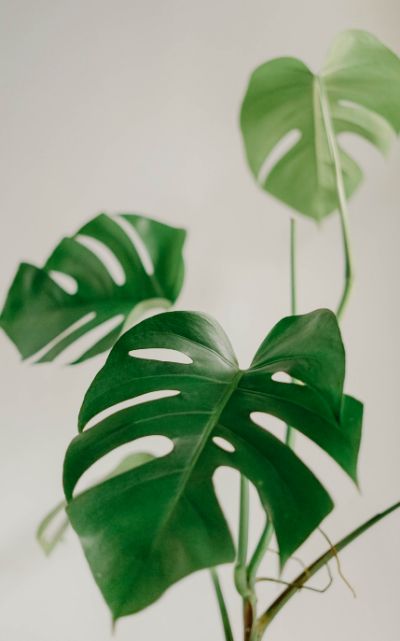 Probably the most well recognised house plant due to its big and bold appearance and wow factor. The cheese plant is a climbing evergreen often growing top heavy and requiring support. A simply beautiful species, known to boost creativity, it's safe to say that no collection is complete without one. With many varieties to choose from you'll be keen to own more than just the one.
Not the thirstiest plant, Monsteras only really need watering once a week during summer. Ensure you don't let the roots sit in water, mist frequently, give it plenty of light while avoiding direct sun and you'll find this species easy to look after and growing rapidly. Take pictures every few months to appreciate the rate of growth and, once large enough, try tying it to your ceiling or walls to provide extra support.
Nephrolepis Exaltata AKA Green Lady Boston Fern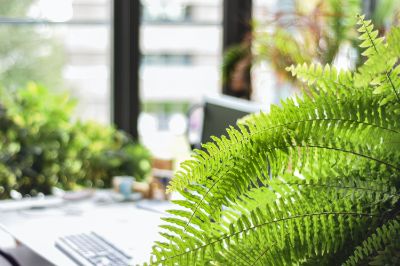 The Green lady Boston Fern is a bold and elegant plant guaranteed to make a statement in your living room. With its ruffled appearance and clump forming foliage it is best displayed in a hanging basket or a shelf so that its leaves can cascade over the edges. The Nephrolepis Exaltata is sure to add that jungle vibe to your home.
This species requires constantly moist soil so be sure to water regularly, not allowing the soil to dry out. Another plant that will enjoy being in the bathroom while the shower is on, you should mist regularly and keep in a humid environment if possible. The Green Lady Boston Fern can survive well in most light conditions from light shade to bright, indirect sunlight.
Nolina Beaucarnea AKA Ponytail Palm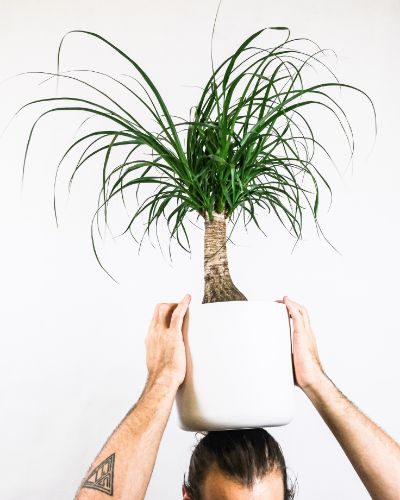 A firm Plant & Deck favourite we simply adore the ponytail palm. A distinctive looking houseplant with a thick swollen brown, water storing stem and long curly dark green leaves which flow up graciously from its base. A thing of beauty, this unique house plant is a real talking point and will make a big impression.
The Nolina Beaucarnea survives with little water so can be watered every few weeks during winter and once a week throughout summer. It prefers the soak and dry method so don't be shy when watering and let the soil almost completely dry out before watering again. Medium to bright light is preferred and, whilst this plant can survive in low temperatures, a warm room will help it thrive rather than just survive.
Peperomia Polybotrya AKA Raindrop Peperomia or Coin Plant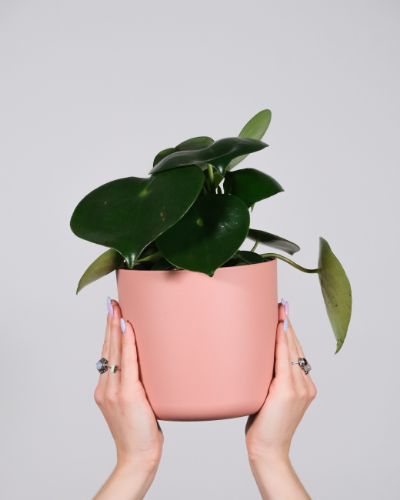 Small in size but big in stature the Raindrop Peperomia gets its nickname from its thick, rich green and shiny leaves shaped like water droplets.
Native to the South American jungle, like the Calathea Orbifolia, it's used to growing on the jungle floor so doesn't like direct sunlight. Humidity is key so mist regularly which will also help keep the leaves clean. Since the leaves store water inside of them make sure you don't overwater, leaving the top couple of inches of soil to become dry in-between waterings. The roots are fairly delicate so take care when repotting.
Philodendron Scandens AKA Heart-Leaf Plant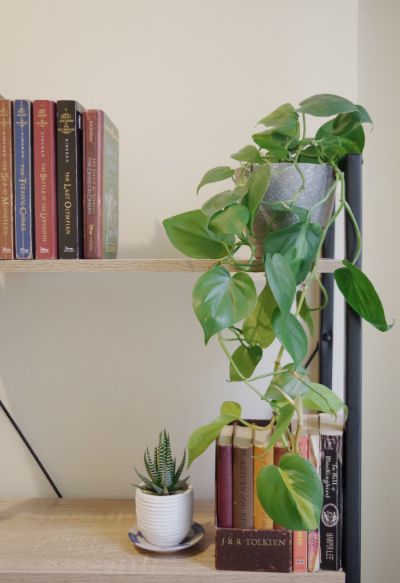 The Heart-Leaf plant, or sweetheart plant, gets its name from its attractive heart-shaped leaves. This species is a vining plant and can grow extremely long, or high, depending on whether you choose to support the plant upright or allow it to hang from a basket. At Plant & Deck we love hanging plants so we'd recommend growing yourself a living curtain to wow your guests.
Again, with most house plants, avoid direct sunlight as the leaves may scorch. Medium light is best for the Philodendron Scandens. Rather than allowing the soil to dry out completely more regular watering is advised as the soil should be kept moist but ensure that the roots are not left wet. An occasional misting will help the Sweetheart Plant thrive.
Sedum Morganianum Burrito AKA Donkey's Tail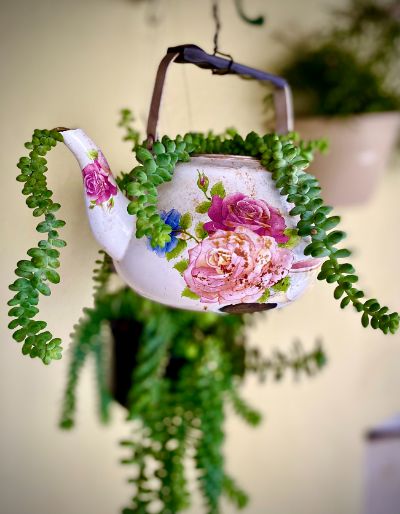 The Donkey's tail is a fantastic trailing succulent with luscious plump leaves and thick stems. Best placed in a hanging basket you'll notice small pink flowers appearing at the tips of the stems during summer.
As with most succulents, The Sedum Morganianum is very easy to care for. Be wary of over watering and allow the soil to completely dry out. If you are able to use the bottom up watering method then do so as this will prevent rotting foliage just above the soil line. Plenty of brightness is required so don't choose a dark or shady spot. A few hours of morning or evening sunshine will do just fine.
Strelitzia Nicolai AKA Giant White Bird of Paradise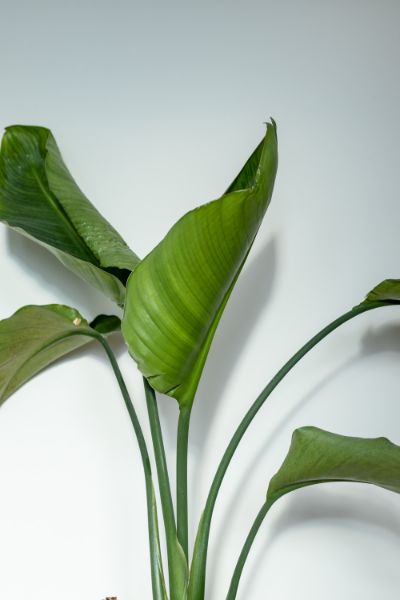 Known for their lush, tropical and banana-leaf-esque paddle shaped leaves, the Strelitzia is a stunning house plant which can grow up to 3 metres tall if properly cared for. In springtime you might find it produces blue and white flowers however this is more common in the wild.
A plant which enjoys warmth and humidity, misting is a must as is ensuring that the soil is kept moist. Water once the top couple of inches of soil dry out and keep in the brightest spot possible but out of direct sun.
Syngonium Nephphytis AKA Arrow Plant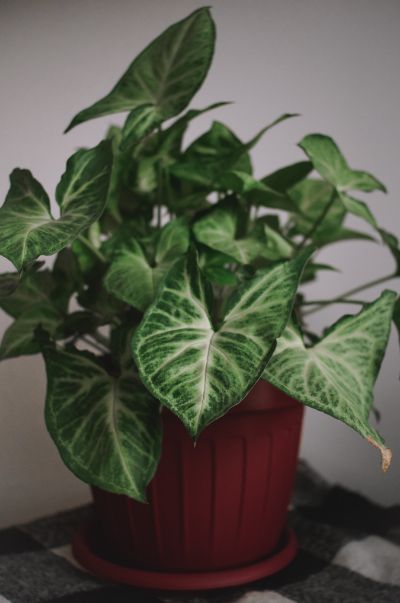 Known for its arrow shaped, marbled cream leaves the Syngonium Nephphytis will, with age, form climbers that can be guided up supports. Patience is required though as this could take a few years. An intriguing plant as its leaves lose their arrow shape in maturity developing fingers instead. This species is toxic so it's best advised to wear gloves when handling.
Bright, indirect light is advised with regular watering during summer to keep the soil moist. Misting once a week will help the plant flourish. A versatile plant that likes to be kept at room temperature.
Yucca Plants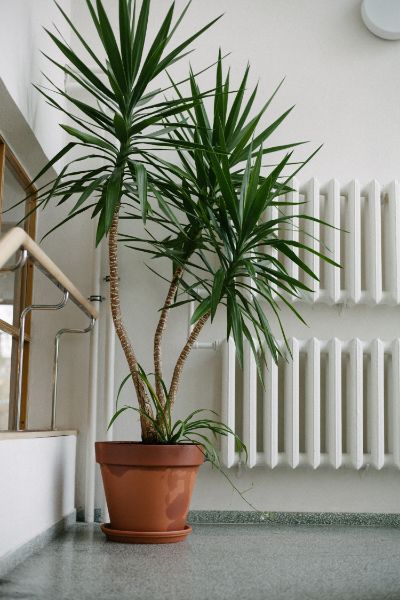 Last but not least an absolute classic houseplant the Yucca is a must for any burgeoning collector. Not your average plant, Yuccas come in an array of weird and wonderful varieties. With their unique and sometimes startling appearance they make a fun and interesting addition to your home jungle.
Yuccas should be placed in a sunny position all year round however try to keep out of direct summer sun. Being very sensitive to overwatering, doing so about once every 7-10 days should be fine during summer, less often in winter. The top couple of inches of soil should be dry before you think about getting the watering can out. If the leaves start to turn yellow this could be a sign of over watering, Ensure you use a draining pot so that the roots don't sit in water. Yuccas are generally very easy to look after so are a great choice for a beginner, they don't even need misting!
Whilst this guide covers the basics it's a good idea to remember that all plants are unique, so an amount of trial and error may be required. As you add to your collection plant care will become second nature to you however, if you'd like to learn more, feel free to pop into the shop anytime and we'll be happy to help.